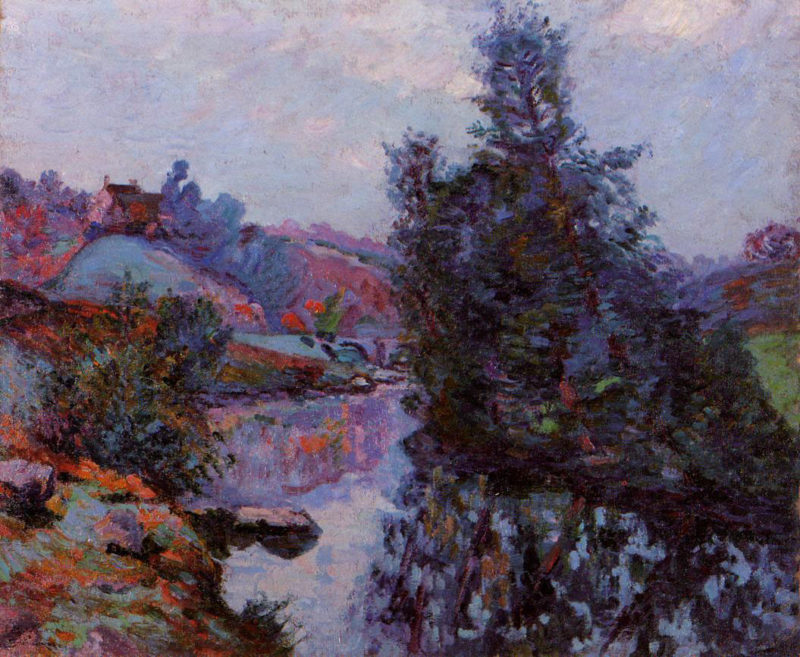 Title: Crozant, The Bouchardon Mill
By: Armand Guillaumin
Date: 1906
Medium: Oil on Canvas
Every month the Art Bead Scene challenges their readers to create jewelry inspired by the featured artwork. This month the inspiration piece is Crozant, The Bouchardon Mill by Armand Guillaumin. It is an impressionistic oil painting.
As soon as I saw this painting, I knew that I was in this challenge. I love the subdued colors in it. It also has a lot of purple. I love purple. I have a few pendants with purple that I considered using. But one day, I happened upon Michelle Ann McCarthy's purple leaves and I fell in love with them immediately. I think they are perfect for this challenge.

A few years ago, I would have stayed away from these leaves because they had those tiny wire loops in the top that I don't like to see in a finished piece of jewelry. Now, I can work with them because I mastered a few ways of covering them. One of my favorite ways to do this, I used when I created these earrings. I
created 4 three jump ring rosettes. They are easy to make.
Just open one jump ring and attach it to another, add a third jump ring though the center of both the first jump rings.
For some reason, I have a large collection of black jump rings and I saw this as an opportunity to use a dozen of them. I knew I was bound to have the right size in this large jump ring collection.

I love the purple leaf earrings that I created. The plum color in the leaves contrasts with the bold black and white part in the leaf design. I highlighted the handmade ceramics by using blacked bronze jump ring rosettes and ear wires. I also added a round bead that is the same plum color.
I am thankful for my loyal customers and I am offering free shipping from now through Dec. 20, 2017 when you spend a minimum of $20 in my BayMoonDesign shop. Just use the coupon code
YULE 2017 when you checkout. You can even snag these purple earrings if you are quick!